VH-EAN Douglas DC-3CS1C3G (c/n 12187)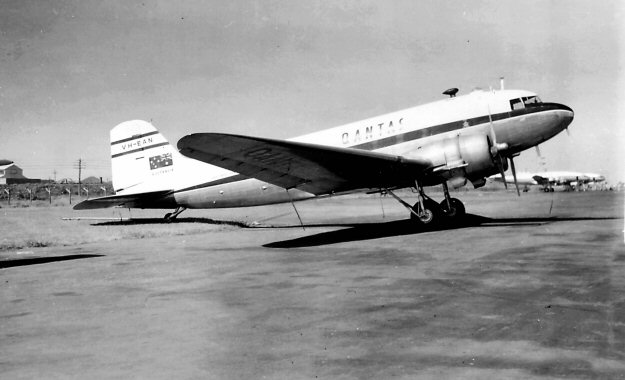 VH-EAN was a former RAF C-47A-1-DK Skytrain (FZ631) which had been operated in the
South East Asian theater. In 1949 it was released from military duties and joined Qantas. It was
re-registered VH-EBF in 1956 (this shot was taken at Mascot in 1954) to allow the marks to be
used by a new Lockheed L-1049H. Further re-registration then saw it as VH-EBU before it
was sold to Trans Australia Airlines' Sunbird operation in New Guinea as VH-SBD. With the
independence of PNG it became P2-SBD and then P2-ANO with Air Nuigini. It finally wound
up as the gate guardian to Cairns Airport in Queensland wearing the fake registration "VH-BPA"
in honor of Bush Pilots Airways. It is seen in that guise in the shot below from the Ken Watson
collection who advises that it has now been removed and scrapped.