VH-EAF (3) Boeing 707-338C (c/n 19626)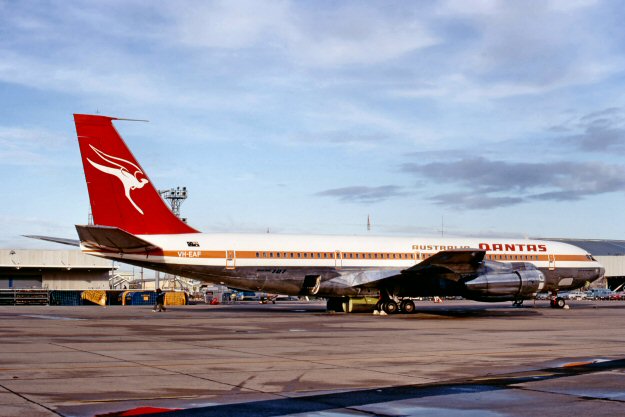 Here's VH-EAF at Mascot in July 1974 when it was named 'City of Townsville'. Photo by Greg
Banfield. This machine had an interesting Qantas history. It was the first Australian registered
aircraft to visit China when it carried Prime Minister Gough Whitlam to Beijing in October 1973.
In 1975 it set a non-stop distance record for the airline when it flew the first trans-Pacific flight
to Santiago, Chile. Withdrawn in 1978 it was sold in March of that year to ITEL leasing and
went to Korean Air Lines as HL-7432 Greg took a photo of it half way through its livery
conversion, still wearing its VH- rego, below, at Mascot. In 1986 it returned to its manufacturer
as part of the Boeing Military Company's project to become the prototype for E-8A J-STARS
program. It later shed its civil registration N770JS and became 86-0416 with the 93rd Air
Control Wing, USAF. It is, I believe, still current today (2010).