VH-EAE (3) Boeing 707-338C (c/n 19625)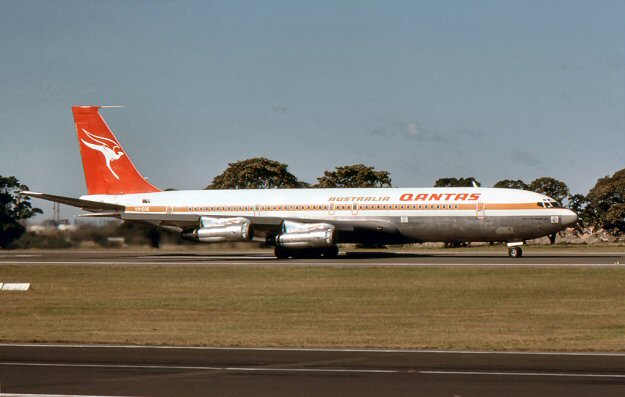 Named "

City of Brisbane

", VH-EAE was delivered from Seattle to Sydney in April 1968. In was
withdrawn from service in 1978 and sold to leasing company ITEL, which leased it to British Midland
as G-BFLD. Over the next six years it was subleased to several airlines and its ownership changed
twice, but BMA remained the operator. In 1985, it changed hands again, fitted with hush kits and
had its windows blanked out before starting a career as a freighter in the United States, where it became
N862BX. It next moved to Nigeria in 1995, as 5N-BBD, with ADC Airlines but two years later
it was parked at Manston Airport in Britain being slowly stripped of usable parts. The remaining hulk
was later sold as scrap metal. David Carter's picture of –EAE at Mascot dates from 1977, when it
was wearing Qantas' red and ochre "Flying Kangaroo" livery.