VH-EAD (3) Boeing 707-338C (c/n 19624)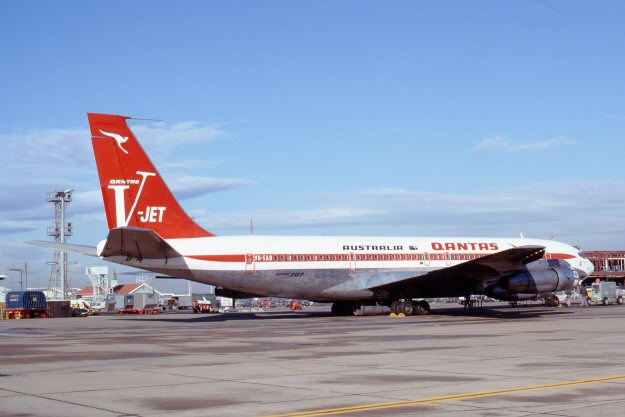 Fourth of the "second" batch of 707-300s, VH-EAD was first flown at Renton on 18 March 1968.
Originally named

'City of Melbourne'

it was renamed

'City of Newcastle'

in 1971 and later in 1974,


'City of Ballarat'

It was withdrawn from use and stored at Sydney in 1979. It was sold to the
Royal Australian Air Force becoming A20-624 initially as a transport machine, but later converted
to a tanker. It was the last Boeing 707 in service and was retired to RAAF Richmond in 2008.
As far as I know it is still in storage there. Greg Banfield's shots show it at Mascot; (above) in
August of 1974, (below) in December of that same year now with the final rendition of the kangaroo
tail and, at the foot of the page, at Mascot in April 1987 as A20-624. It is now retired, but in its
latter days on inventory, it looked positively drab in a low visibility scheme (foot of the page, by
Phil Vabre, at Avalon in March 2007).