VH-EAA (1) Lockheed L-749-49 Constellation (c/n 749-2562)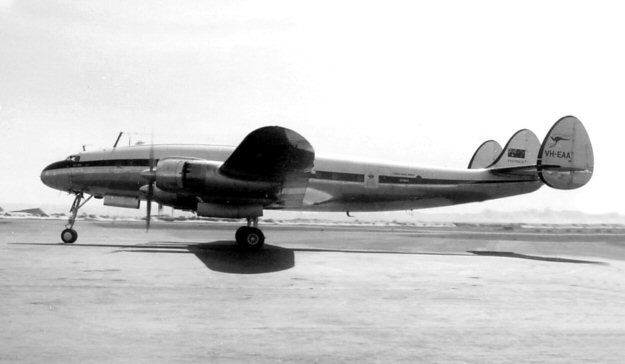 Design of the Lockheed Model L-049 was initiated in 1939 in answer to requirements from both Pan
American World Airways and Transcontinental & Western Air (TWA) for a high speed transcontinetal
airliner. Manufacture of the aircraft was begun, but with the outbreak of World War II all aircraft
were commandeered into the military as C-69s. Twenty two were produced for the USAAF. After
the end of hostilities, civilian production started up and the first Constellation was certified for airline
operation in December 1945. The long range model was the L-749 and Qantas purchased four of them
in 1947, to service the route from Sydney to London, via Asia. The first of these 'Ross Smith' is seen
above, taxiing at Mascot in the early 1950s. This aircraft was sold to BOAC in 1955 becoming
G-ANUP. For more details on this aircraft visit Ron Cuskelly's site (see link in Qantas Index).