VH-DUA CZL (Let) Aero 145 (c/n 19-012)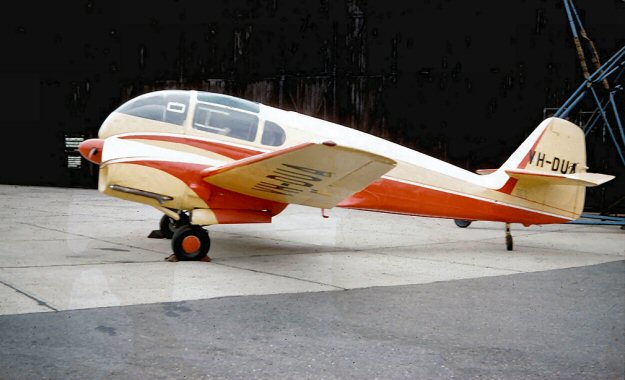 Responsibility for production of the Aero 45 was passed over to LET (Letecky Narodny Ponik)
in 1951 by the Czech nationalized Ceskoslovenske Zavody Automobile a Letecke entity. 142
examples of the improved model 145 were built. Only a few made it to Australia. One of these
was VH-DUA seen above at Biggin Hill in May 1960 in this nice shot by Ian D. Johnson. The
only other shot I have of it* (below, via the Geoff Goodall collection) was also in the U.K. and
was taken at Cardiff Rhoose Airport whilst it was having long range tanks fitted and also conduct-
ing demonstration flights for Omnipol, the Czech national Foreign Trade Corporation.
Two 145s, VH- DUA and - DUB were ferried together after having spent a month in the U.K.
The pair were crewed by four Dulmison Aircraft of Bankstown directors: Phil Dulhuntly, Peter
Brown (also of Kingsford Smith Aviation Services and Yeoman Aviation), B. Robertson and
A. J. Allen (of Allen Bros Ashphalting, who owned a series of Beech aircraft). Among other
adventures during the ferry flight, the two aircraft were impounded by West German authorities
when they inadvertently entered the West German ADIZ and landed at Amberg, Bavaria.
*VH-DUA had a short life in Australia,which is probably why I have no photos of it taken in Oz.
It crashed on takeoff at Moorabbin on 12 November 1960 during a demonstration flight to show
single-engined performance. Sadly the demonstration pilot was killed.