VH-DRU Beech 95-D55 Baron (c/n TE-498)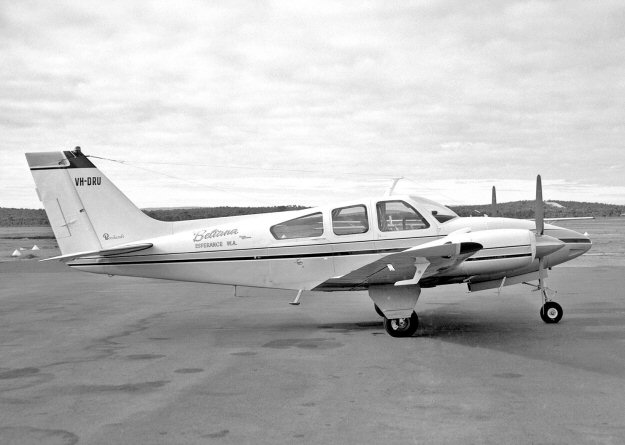 A Geoff Goodall photo taken at Jandakot, August 1968. This Baron had been registered new in
March of that same year at HdH's in Sydney. It was quickly sold to Mr. J. Samson of the farming
property Beltana near Esperance, WA., hence the titling above the cheat line reading "Beltana -
Esperance W.A". In the photo below, also by Geoff at Jandakot (he was an ATC there for several
years in the 60s and 70s) in December 1973 the titling "Leonora Air Charter" appears on the lower
fuselage. I assume Mr. Samson leased the aircraft to Leonora. Whatever, the "LAC" on the tail
looks more like "CAL" to me! On 11 June 1978 , VH-DRU, then owned by Avior P/L was taking
off on a night flight from Norseman, WA to return to Perth with five football players, when it crashed
and caught fire. It seems there was a lock on the engine power quadrant that had not been removed.
The lock was not the factory provided device and was missing the red PVC display piece. .Whatever
the reason, the accident was a tragic one, killing all passengers and the pilot.