VH-DRB DHA-3 Drover 1 (c/n 5006)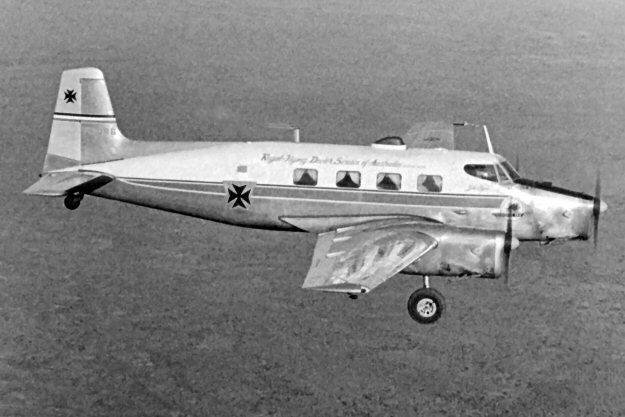 Photos of VH-DRB are compartively rare. The above is from CAHS archives, via Phil Vabre. .
The image immediately below is from the John Oxley Library, State Library of Queensland collec-
tion showing a doctor alighting from a Royal Flying Doctor Service Drover greeting some women
and children at an outback station, date and venue unknown. Well, he seems friendly enough - the
potential patients look a little nonplused. Anyway, the narrative indicates that the aircraft was named


"John Flynn"

. VH-DRB was, in fact, the aircraft named after this founder of the Service. It is seen
in the photo at the foot of the page in a DHA publicity shot (via Geoff Goodall) on its delivery flight
from the factory at Bankstown to Charleville, Queensland where it was based by TAA for the Flying
Doctor Service contract. Captain W. D. Young, standing on the wing, was the pilot in command for
the flight. -DRB was re- registered VH-FDR in 1962. The FDS had "Royal" charter bestowed
upon it in 1955.