VH-DOD Cessna A188 Agwagon (c/n 188-0126)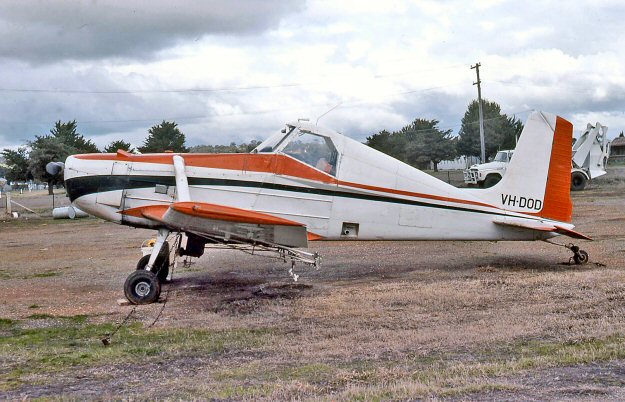 Over 2500 Cessna model 188s were built from 1966 until production ceased in 1982. From
1971 on they were known as the Agpickup, and a version with a larger hopper became known
as the Agtruck. Some 70 or so made their way to Australia. This one, from the first batch
imported, was first registered in January 1967. Roger McDonald's color shot above was taken
at Cootamundra, NSW in August 1981 after it had been modified by Hazelton Air Services of
Cudal to a two-seater model, known is Australia as the A188/A2. Geoff Goodall's B&W
photo below was taken at the distributor's base at Bankstown just after it had been uncrated.
Note cut down cockpit versus the razorback effect after conversion above. It would appear,
from Geoff's photo, that the aircraft never actually carried its US registration of N9876V, having
been painted up as VH-DOD in Wichita. This Agwagon was written off following an accident
in July 1986 at Munglinup, West Australia (approx 100 km west of Esperance).