VH-DMS Cessna T207 Turbo Skywagon (c/n 20700130)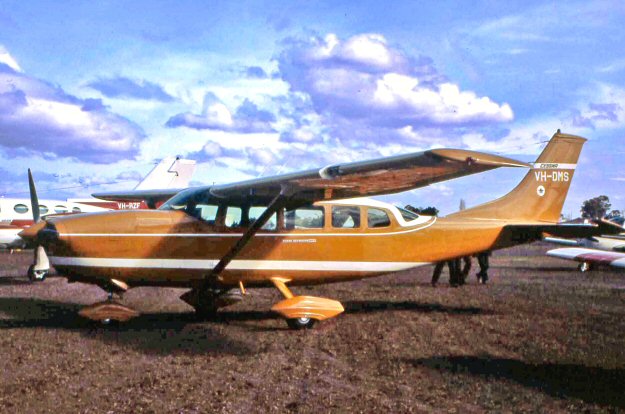 Not exactly the color I would choose for my aircraft, However, I guess you take what you get
when you when you show up at the dealers to take delivery and that's what it turns out to be.
The 207 was basically a stretched 206D with an 18-inch baggage section ahead of the windshield
and a 27-inch added section aft of the wings to give seven seats in four rows. Surely the ultimate
stretch from what began, after all, as the 120/140/170 series of lightplanes of 1946. VH-DMS,
a turbo powered version of the standard 207, was first registered on 19 January 1970 and did a
stint in Papua/New Guinea in 1974 as P2-DMS. I suspect that John Wheatley's shot above was
taken prior to that secondment. It was restored to the Australian register on 21 May 1976 (the
date CASA says it was first registered). In November 2010 it was acquired by Alligator Airways
Pty Ltd of Kununurra WA and re-registered VH-WOX. This company specializes in scenic tours
of the spectacular Kimberley's in Australia's Far North.