VH-DJU Cessna 185 Skywagon (c/n 185-0677)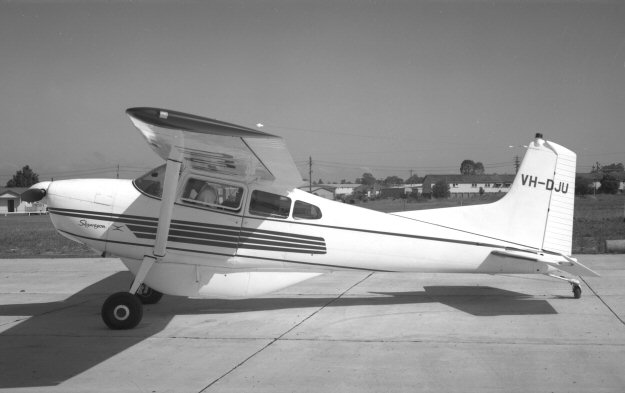 Here's a sharp looking Skywagon at Bankstown in March of 1964. Photo by Greg Banfield. It
was first registered (ex N2677Z) on the 20th of that same month, so Greg caught it just as it had
been assembled. Is it me, or does the pannier look larger than standard? Bruce Hoy's shot
immediately below shows it at Lae, PNG on 1 January 1968. VH-DJU remained on the Aussie
civil register until July of 1993 when it went to New Zealand as ZK-JHS. Peter Lewis photo-
graphed it (foot of the page) at Ardmore Airport, Auckland in September 2003. Peter tells me
that when light aircraft make the trip across the Tasman to Australia, (generally via Norfolk Island)
the"ZK-" part of the rego (normally left off for those aircraft which never leave the islands) is added,
often in masking tape. Clearly that was the case with -JHS which appears to have made this
(nostalgic?) trip back to Oz at about the time he took the photo below. Still current, it has now
reverted to the (for New Zealand) more conventional "last three" only rego configuration. I bitch
about this silly idea elsewhere in my New Zealand collection narratives so will not dwell on it here!