VH-DHC (5) Piper PA-30-160 twin Comanche (c/n 30-711)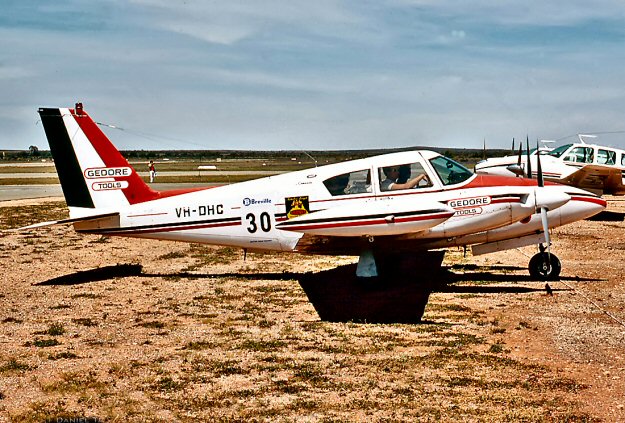 Oddly, the fifth iteration of the rego VH-DHC was allocated to this previously owned (ex N7634Y)
1965 model Twin Comanche. registered in Australia in July, 1969. . I say oddly since the first 4
versions of -DHC were part of the de Havilland of Australia series and used by aircraft of which DH's
were the Australian distributors. . Since, to my knowledge, DH's was never a Piper distributor,
possibly when the Twin Comanche came in it was originally owned by this company. Anyway, it
is seen above at Broken Hill in November 1979 in this photo by Danny Tanner when it was taking
part in a rally and sponsored by Gedore Tools. By January 1992 when Danny took the second
shot below at Parafield, it was owned by Dasyl Avionics Pty Ltd of Bankstown, NSW, The air-
craft has had many owners and is still current today (2016) being registered to a company in
Melbourne. At the foot of the page is a rare shot by David Carter showing the Twin Comanche
at Bankstown in June 1969 in original Piper livery before being given its Australian CofA the
following month.
.