VH-DEC Cessna 180A Skywagon (c/n 32678)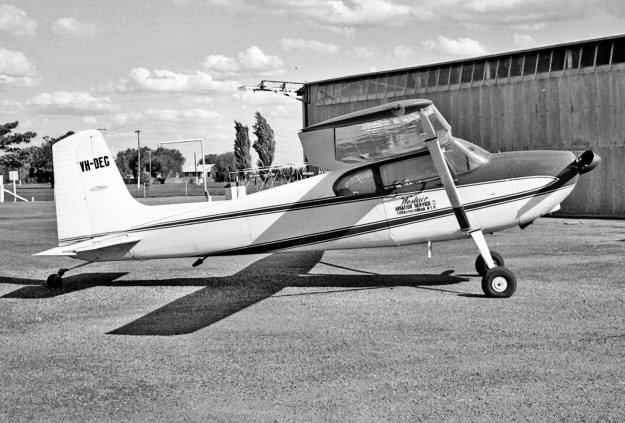 This early (1957) 180A was first registered in Australia in December 1962, ex N7781A. When Bob
Neate took the above shot at Narromine, NSW in 1963 it was owned by Westair Aviation Service of
Coonabarabran NSW. It looks as though its dusting gear had not, at that time, been fitted, plus the
painter had gotten the points of the "C" too long (looks almost like VH-DEG). . In 1979 the aircraft
must have been out of Cof A as its registration was allocated to a Bellanca 8KCAB Decathlon (naturally)
and the Cessna became VH-DEQ when finally restored to the register in May 1981. It 1985 it went to
PNG and became P2-DEQ. It sustained serious damage at the Arufi Mission Airstrip in July 1990 but
was rebuilt and shipped to the UK in May of 1991 becoming G-BTSM in July of that year. In July
2008 it was acquired by an owner in New Zealand and registered ZK-TSM (kept its last three).
As such it is still current.