VH-DCH (1) de Havilland D.H.82A Tiger Moth (c/b 85082)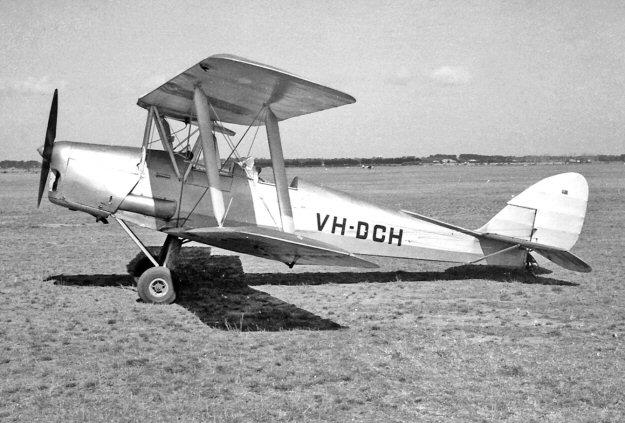 This Tiger, ex G-ANZS was imported from the UK at the end of 1959 and registered VH-DCH
in February 1960. It was a relatively late model and served with the RAF as T6813. Bob Neate's
shot above was taken at Moorabbin in 1962. Although devoid of any livery bar the rego, it looks
kind of neat and uncluttered. Similar to many of the machines which were released after the war to
the Indian flying schools. VH-DCH crashed and was extensively damaged at Yarrawonga, Vic on
30 November 1963 during landing in gusty wind conditions. Geoff Goodall took the shot below
of the remains at Wandin North, Vic in November 1967, where it was stored dismantled at
Nelson Wilson's farm in the same shed as an ex RAAF Curtiss P-40E A29-133 which he had
found abandoned in an orchard in the Melbourne suburb of Broadmeadows. Both became rest-
oration projects, the Kittihawk ending up with the Australian War Memorial in an exchange deal,
and the Tiger above as VH-PJI in 1982.