VH-DBF Piper PA-23-160 Apache G (c/n 23-1964)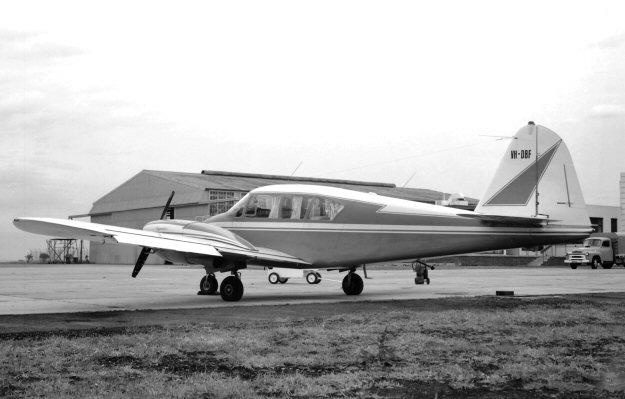 Formerly N4445P this Apache was a late model, built in 1960, when the original model was
soon to be replaced with the Aztec. It did not reach Australia, however, until October of
1964. Greg Banfield's photo (above) was taken at Mascot that same month. Registered
23 October 1964 to L. H. Ford of Dubbo NSW. After various later owners, it was finally
struck-off the register on 27 June 2006 as withdrawn from service.
Les Ford was a long-time pilot and Mayor of Dubbo, who used the rego VH-ADU on
several aircraft, including a previous PA-23-160. He liked the "DU" which was the aero-
nautical designation for Dubbo. The assumption is that the replacement Apache VH-DBF
signified "Dubbo Ford". Peter Limon's shot (below, via Geoff Goodall) shows it at Mascot
as N4445P just after it had arrived. Note ferry tank still inside the cabin. .Finally, at the foot
of the page is an image from John Wheatley taken in the early 1970s with -DBF still carrying
its standard Piper livery albeit with 'Nepean' superimposed.