VH-DAU Piper PA-25 Pawnee 150 (c/n 25-341)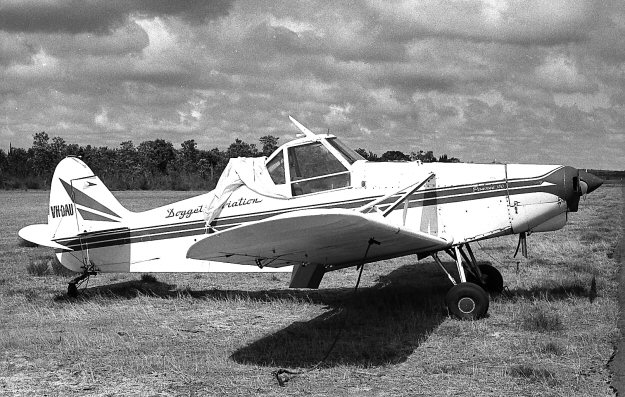 Stan Doggett began his aviation career as an apprentice aircraft mechanic with newly formed
Airlines (WA) Ltd. in 1937. He later set up maintenance and charter businesses at Perth's
Maylands aerodrome before forming Doggett Aviation & Engineering Co. in 1954, specializing
in agricultural aviation from 1957 onwards with Tiger Moths. During the boom aerial agriculture
seasons of the 1960s, Doggett Aviation moved to a large new hangar at the new Jandakot Air-
port and flew a large fleet of Piper Pawnees as well as CA-28 Ceres and three Percival EP-9s.
The slump of the early 1970s drove Doggett Aviation out of the aerial agriculture business, and
he reformed as manufacturers of metal dinghies. VH-DAU was an early Pawnee 150 and is seen
above at Jandakot in April 1969 It was first registered in Australia as VH-MCI in November,
1960. Shortly after Geoff Goodall took the above shot Doggett sold the Pawnee in South Australia.
Geoff saw it again at Northam, WA in May 1970 (below), stripped of its Doggett titles, and just
before it moved east. VH-DAU is still registered to an agricultural company, Leafair, in Deniliquin,
NSW, but whether they still use this ancient sprayer actively is not known.