VH-CZA Douglas DC-9-31 (c/n 47003)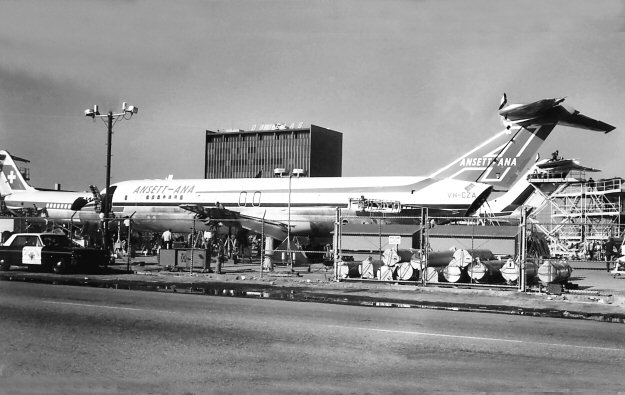 Here's Ansett-ANA's first DC-9 being built at Douglas Long Beach in the fall of 1966. Note all
construction taking place in the open! (Since one can more or less guarantee that no rainfall will
fall in the Southern California area from the end of March until December at the earliest, building
aircraft outside was quite feasible). VH-CZA was delivered in March of the following year. The
Swissair model -32 on the left was destined to become HB-IFD. As I recall it the CHIPs officer
(Dodge Cruiser on left) quizzed me as to why I was taking the photograph, although no action was
taken! Greg Banfield saw it operating at Mascot (below) in September 1974 in Ansett Airlines of
Australia livery. In 1982 Ansett-ANA's DC-9s were sold back in the US, and VH-CZA went to
the US Navy as BuAer 162390. It is, still flying (2008) as N946AX with Airborne Express as a
freighter.