VH-CYJ Cessna 180A Skywagon (c/n 32932)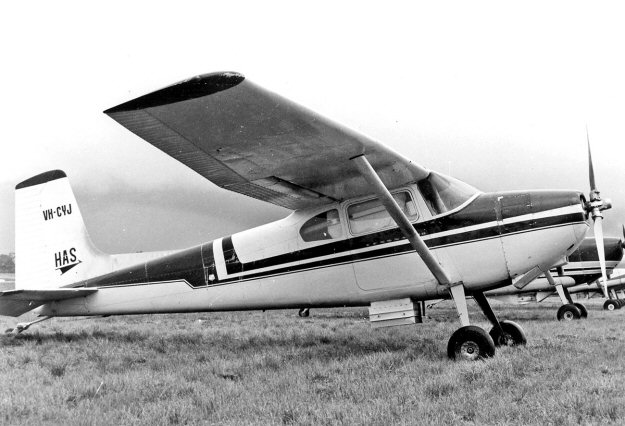 VH-CYJ was one of nine Hazelton Air Services crop dusting Cessna 180s which arrived in formation
under low cloud and drizzle at an airshow at Orange in October 1965.. Michael Croker was there to
capture the event (above). This one was a second-hand import from the USA in February 1962 and
joined Hazelton's fleet at Cudal. It is still current and below are three latter-day shots of it. On the
upper one, by Greg Banfield at Bankstown on 8 October 1984, the fuselage titling reads

'Yerranderie

Silver Ghost'

John Wheatley saw it some 15 years earlier (photo # 3 below) and even then it had shod
the original Cessna scheme it was wearing when first imported, ex N9635B, in 1962. Note crossed,
non-standard "J" in the rego. Greg Banfield's second shot at the foot of the page was also at Bankstown
but in November of 1982 with the Skywagoin in virtually the same paint job, but with a conventional 'J'
and 'Navair' titling on the fin and fuselage. VH-CYJ was still flying at Dirranbandi, Qld into the new
millennium, but now appears to be off register.