VH-CYB Yeoman 175 Cropmaster (c/n 257)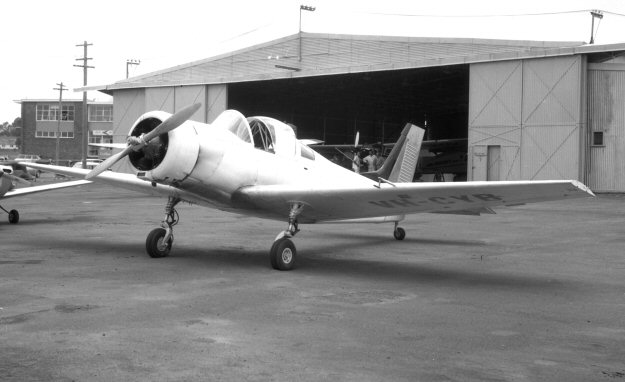 The two photos above and immediately below were taken by Greg Banfield and show the Wackett
Trainer at Bankstown in 1962 modified with the "new tail" designed for the Yeoman YA-1 The
image at the foot of the page is by Eric Allen (via Geoff Goiodall) taken at about the same time.
I have listed it as the Yeoman 175 instead of as a CAC CA-6 Wackett Trainer in order that search
engines will display it as the Yeoman. Originally the Wackett Trainer VH-AIV, it had been civilian-
ized (ex A3-23) in November 1945 and acquired by J.T. Brown for 245 quid (which was a lot of
money in those days). In 1961 it was used to test the new metal tail to be fitted to production Yeo-
man YA-1 Cropmasters. The aircraft only flew for about six weeks and the registration was only
painted on the upper and lower surfaces of the mainplanes. Officially VH-CYB is listed as "never
taken up" which is odd, considering that it was clearly painted up as such and test flights took place.
It was withdrawn from use in February 1962 following the test flights.