VH-CXS Yeoman YA-1 Cropmaster 250 (c/n 101)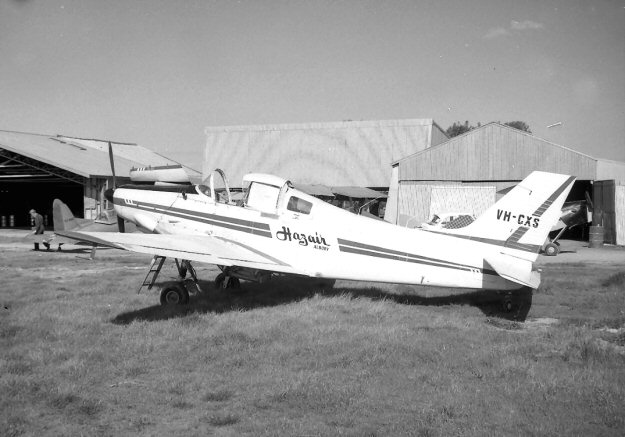 The Cropmaster was developed in 1958 by Yeoman Aviation Pty Ltd of Bankstown, NSW
a division of Kingsford Smith Aviation Services Pty Ltd. It was based on the CAC Wackett
Trainer. VH-CXS was the prototype and had an original Wackett Trainer fuselage. How-
ever, by the time later models were produced all that remained of the Wackett was the basic
steel-tube fuselage frame. The all metal flying tailplane and swept tail, plus the wings of the
Cropmaster were of a completely new design. Only 21 Cropmasters were built. As was the
story in the 1960s and 70s, they could not compete with imports such as Piper's Pawnee and
Cessna's Agwagon which were being made available at a cheaper price........... (Dumping?)
Very large corporations will do almost anything to ensure that their markets are not eroded by
upstarts, and unless one has very deep pockets and can outlive and undermine the competition
(as Sir Richard Branson did with British Airways) they will run you out of business every time.....
The above shot of VH-CXS was taken by Geoff Goodall at Albury, NSW in September of
1965 By the time Mike Madden took the nice color shot below, the aircraft was looking well
and truly hard-worked. It later went to work for Eveready Air Spray at Wee Waa, NSW, as
seen in the image at the foot of the page taken by Geoff in June 1975. VH-CXS had originally
been registered VH-BJF. It was withdrawn from use in 1980.