VH-CXC Douglas DC-5 (c/n 426)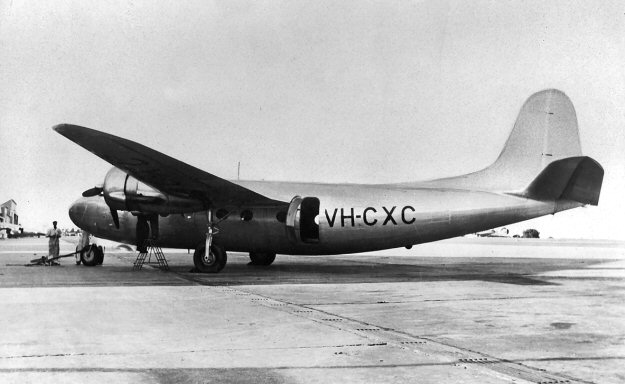 I will include this aircraft here although the markings VH-CXC were not a civilian registration at all.
The aircraft was originally put into service with the Allied Directorate of Air Transport (ADAT) and
given the call sign VHCXC. In 1945 it was assigned the civil registration VH-ARD. However, ANA
operated it using its military call sign, and conveniently put a dash in it making it look for all the world
like a civilian registration. If proof is needed that it actually flew passengers wearing this pseudo military
identity, the rather washed-out shot below shows pax disembarking at Essendon (Melbourne) from a
flight from Tasmania in 1946. Three ex-KNILM DC-5s found their way to Australia during the war.
They were given call signs VHCXA, VHCXB and VHCXC.. Dutch reserchers have indicated that
VHCXC was ex PK-ADD and this is born out by the rare image at the foot of the page showing
VHCXC in earlier military markings with the c/n 426 on the tail, and the star painted over what was
clearly PK-ADD. Photo above via the CAHS collection.