VH-CWR Beech G35 Bonanza (c/n D-4693)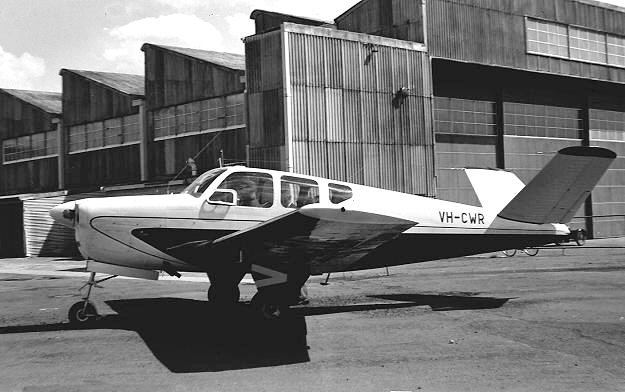 This Bonanza was the first of its kind on the Australian Civil Register, being registered in September
of 1956. At that time dollar import restrictions were still in place, so American lightplanes of this
genre were rare. (It wasn't until the early 60s that these restrictions were lifted and the flood gates
opened and swamped the Australian market with Cessnas and Pipers). This shot is by Jim Dyson
(via the David Molesworth collection) and was taken at Bankstown, probably soon after the air-
craft was registered. Greg Banfield took an interesting shot of it ten years later (below) at Orange,
NSW on 5 February 1966. As can be seen, by then it had had a complete repaint. I heard
from the current owner, Paul Murray back in 2008 who indicated that it was undergoing a restor-
ation. Since the current (2011) CASA register lists -CWR as active I assume that was completed.