VH-CTE Beech 65 Queen Air (c/n LC-85)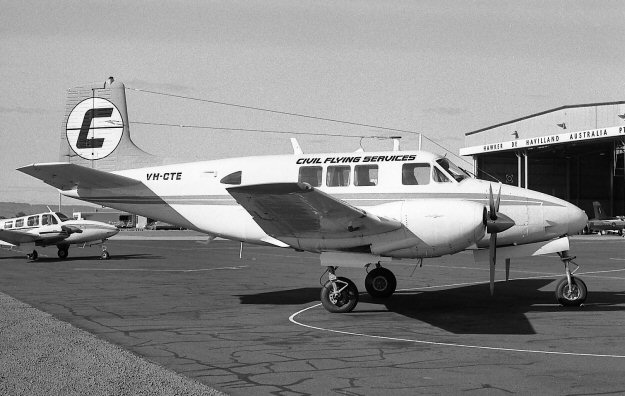 The three images on this page are all from the Geoff Goodall collection. Imported from the UK in
1968, it had originally been G-ARII (as seen in the photo at the foot of the page taken at Moorabbin
in April of that month just after it had arrived). In May 1968 it was registered to Civil Fling Services
as VH-CTE and used mainly on survey contracts. However, by the time Geoff's shot above was
taken at Perth Airport in 1975, it was being used on passenger schedules. By 1978 CFS had sold
it off to Whitaker Pty Ltd, trading as Noosa Air. Geoff's shot immediately below was taken at Noosa
Heads. The cabin inscription reads 'Noosa - Brisbane Commuter'. Later in the 1980s it reverted to
its former role as a photographic machine with Kevron Photographics back in West Australia. It was
finally withdrawn from service in 1990 and broken up around 1995.