VH-CPP (2) Cessna 320D Skynight (c/n 320D0051)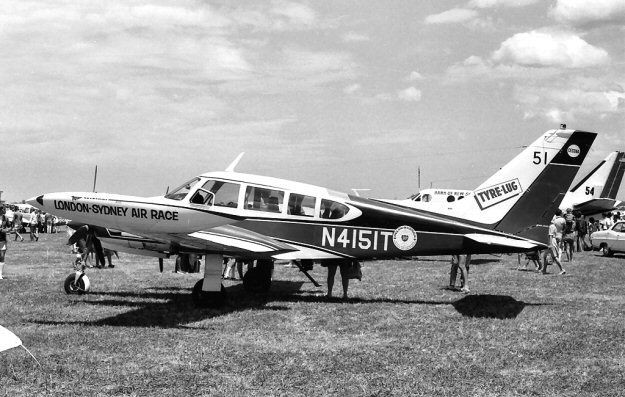 VH-CPP, a 1966 model, had arrived in Australia in as Race #51, a competitor in the London-
Sydney Air Race that had been run over the Christmas-New Year period of 1969-70. It was
registered N4151T and crewed by Qantas 707 captains Bill Robbie and Alan Terrell . Like
many race competitors, the Skyknight was sold locally rather than face a long journey home and
became VH-CPP on 3 April 1970. . David Carter's two pictures of -CPP, were both taken at
Bankstown; above at the conclusion of the air race in early January 1970 whilst it was still in its
US markings and below just after being registered in Australia in April of that year.
This Skyknight became the centre of an aviation mystery when it vanished without trace on a flight
from Bankstown to Coolangatta on 21 November, 1970. It was believed it had come down in
the sea but an extensive search failed to find any debris that might pinpoint its location. The pilot,
and owner, was Perth businessman James Clay, who was accompanied by a woman friend. The
mystery was finally solved in 1984 when wreckage was found in dense bushland on Peach Mountain
just 22 miles short of Coolangatta. The weather was poor and the light was fading fast at the time
of the crash and inexplicably, Mr Clay turned inland rather than approach Coolangatta from the relative
safety of the sea.