VH-COL Auster J/1N Alpha (c/n 3363)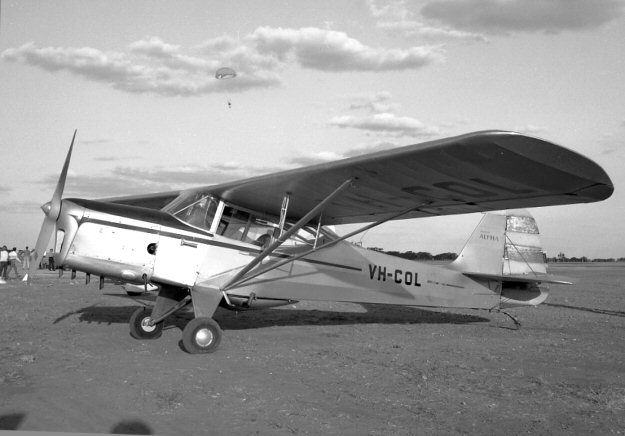 This Auster was originally built for Aviation Service (SA) Ltd as VH-BTJ and shipped to Parafield
in 1958. In the event it wound up with the McKenzie Flying School at Moorabbin and was re-regis-
tered VH-GMG in 1959. It 1961 it went to A.E. Carlyle of Gruyere, Victoria and became VH-COL,
an identity it has retained ever since. Geoff Goodall took the above shot at Warracknabeal, NSW in
April 1967. It was struck off the register in 1969 due to damage from a windstorm but was rebuilt
in 1976 only to suffer more wind damage whilst in a hangar at Watts Bridge Memorial Airfield in
Queensland in 2003. It is currently registered to Shane Winter of The Gap, Qld. as seen in the less
than spectacular shot of it from the Barry Maclean collection (below), taken at Avalon, Victoria in the
1990s. At the time it was all dolled up as an AOP for the RNZAF. Its current airworthiness status is
unknown.