VH-CMV Cessna 185B Skywagon (c/n 185-0519)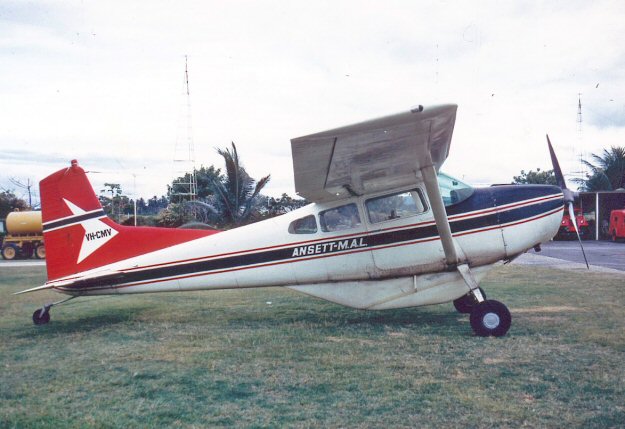 One of the half-dozen or so 185 Skywagons operated by Ansett-MAL in Papua/New Guinea
in the 1960s. This one, ex N2519Z had been delivered to the airline in January 1963. It is seen
above at Madang in 1966 in this shot from the Fred Niven collection. .Like sister ship VH-CMS,
it was sold to Territory Airlines in 1968, although did not stay with them long and was never regis-
tered on the PNG P2- register. It went south to the mainland in 1968 having several owners
in Queensland and Northern Territory. Peter Kelly's shot below was taken at Mount Isa, Qld in
January 1971 when it was with the McArthur River Cattle Company at McArthur River Station
on the remote Gulf of Carpentaria. It was later converted to a crop sprayer and went to Tasco
Aerial Spraying of Adelaide. In 1993 it was ferried , via Norfolk Island, to New Zealand where,
oddly, it retained its 'last three' and became ZK-CMV. It was seriously upgraded in 2005 with
a 'Texas Skyways' pack which included fitting a Continental IO-550 engine with a Hartzell three
blade prop and modified wing tips. Bill Mallinson caught it at Christchurch in August 2011 (foot
of the page) looking 'better than new'. Nice to see it with the full ZK- rego, also!