VH-CMT (3) Beech 65-A90 King Air (c/n LJ-114)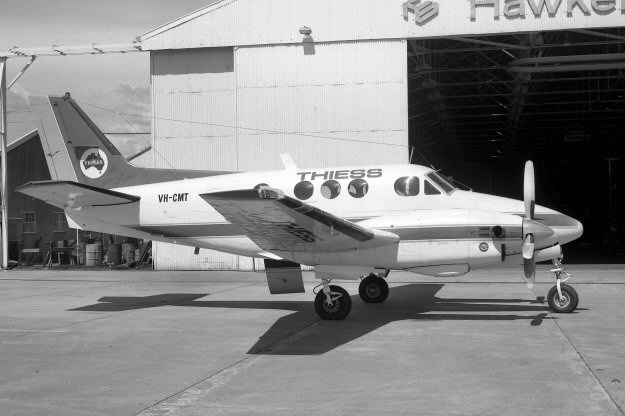 The third VH-CMT was also a Beech Model 65. The King Air was, I suppose, a natural
progression from the latter model Queen Airs although I also suspect that Beech elected to
give it the same basic model number in order to obviate the expense of having to secure a new
ATC qualification for it. This aircraft was ex N890K and was to have become VH-FBK but
this rego was not taken up, and it was allotted -CMT instead. . Greg Banfield's shots in this
entry show:- (above) in Theiss Brothers titling at Bankstown in October 1968; (# 3 below)
while with Norfolk Island Airlines, also at Bankstown in March 1975, and finally at the bottom
of the page as N890K at Bankstown on 17 September 1966. The color shot of it immediately
below was taken by John Wheatley at Bankstown in 1970. Note: revised livery with rego
moved to tail. It returned to the US in April of 1975 as N114KA. Re-registered shortly
after as N114CW, c/n LJ-114 force landed at Rangely, Colorado when both engines quit due
to fuel contamination, and was written off. The pilot had neglected to drain off the residual
water in the tanks.....tut, tut, tut.