VH-CMI Beech 65-80 Queen Air (c/n LD-12)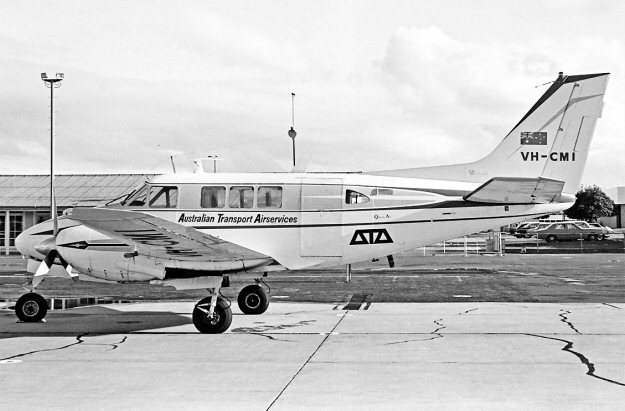 This was the former VH-CMT, re-registration occurring in January 1967 when that latter rego was
used on a King Air. Geoff Goodall's photo above was taken at Perth Airport in January 1969 when
the Queen Air was with the WA charter company Australian Transport Airservices. Greg Banfield's
shot below was at Mascot two years later (February 197)1 by which time the aircraft had gone to,
and sold by, Jetair Australia Ltd, who had acquired it in July 1969. In April 1970 it was registered
to Connellan Airways although leased back to Jetair (hence the non-Connellan livery when Greg's
photo was taken). When Jetair folded -CMI was sold to B.B. Wilson of Albert, although appears
to have been leased back to Connellan, since it was flying for that concern when it crashed on
20 January 1972 whilst operating a charter from Alice Sprints to Ayers Rock Soon after take off
from Alice Springs the pilot reported a fire in the starboard engine. No further transmissions were
heard from the aircraft and it crashed some 5 miles south-west of Alice Springs Airport. The pilot
and 6 passengers were killed, and this was, .in fact, the first fatality that Connellan Airways had ever
suffered in its long history. Phil Parker, who was the ATC officer in Alice Springs Tower at the time
of the crash, tells me that this aircraft had had a mishap the year before, wherein the gear would not
come down. A photo of this accident appears at the foot of the page. For what it's worth, Phil
advises me that during this earlier accident, whenever conversastions between -CMI's pilot and him-
self in the tower occured, Phil, even then, could hear the familiar engine noise beeping (engine throttled
back and gear up), sounds, so engine problems appeared to be endemic with this particular Beech. .