VH-CLZ de Havilland (Riley) D.H.114 Heron 2E (c/n 14075)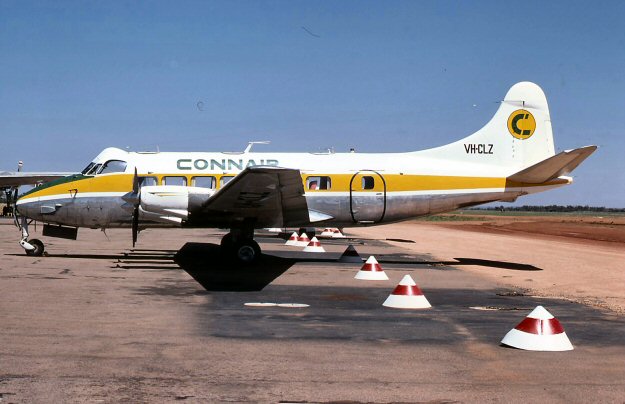 Like many operators who decide to consolidate on one type of aircraft* for a specific purpose,
Connellan acquired its Heron fleet from many sources. They were used on outback services
in the Northern territory until owner Eddie Connellan sold out to East-West Airlines who then
operated his routes as Northern Airlines. They discovered it wasn't that easy and went out of
business in a scant couple of years.. (Connellan, on the other hand, who understood doing business
in the Territory, had successfully operated for almost 40 years). VH-CLZ had had an interesting
career, and was formerly owned by Air Pacific by as DQ-FAC (ex VQ-FAC) before being sold
to Connellan in June 1975.. It had originally been delivered to Indian Airlines in 1955 as VT-DHJ.
Before entering service with Connellan Airways it was modified to Riley Heron standard by the
installation of four Lycoming engines. The photo above, from the Chris O'Neill collection (via
Geoff Goodall), was taken at Alice Springs in November 1979. By June of 1980, Connellan had
had enough (following the tragic death of his son at the hands of a suicide Baron pilot's deliberate
crash into the Alice Springs HQ building) and the Heron fleet was absorbed by Northern Airlines.
Michael Austin's historic and striking shot below shows -CLZ in full Northern livery with a couple
of Connellan DC-3s in the background waiting to be sold off. As indicated, Northern were not
in business long and.like the rest of the Heron fleet, -CLZ wound up with Airlines of Tasmania,
who had also opted for the type for their trans-Bass Strait and internal Tasmanian services. .Mike
Madden's lovely cloud effect photo at the bottom of the page (also via Geoff) illustrates the Heron
at Essendon in December 1985.. VH-CLZ is reputed to be at the Queen Victoria Museum in
Launceston, Tasmania as a 'back up' exhibit to VH-CLV. Maybe both aircraft will be cannibalized
into one machine? I'm not sure just where they are stored, though.

Side note * We have a similar situation here in North Carolina (2009). A local sky-diving operator, Fayard Enterprises
has more or less standardized on the CASA-212 (they do have a few Twin Otters). The owner of the outfit
scours the world far and wide looking for used 212s. (Most seem to come from Africa, where many did stints
with the UN and come into North Raleigh Airport initially in all white livery).