VH-CLY de Havilland (Riley ) D.H.114 Heron 2D (c/n 14122)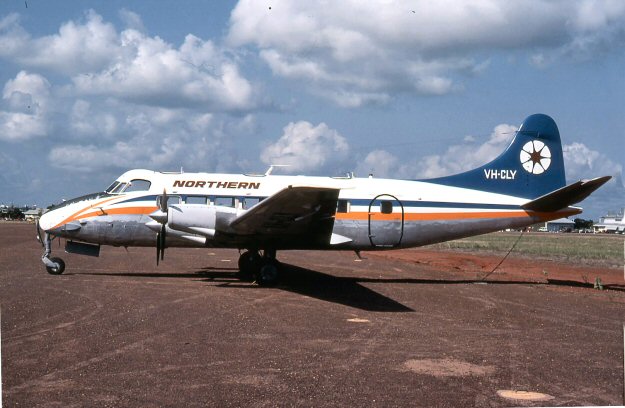 So far we have not been able to come up with shot of -CLY in Connellan markings. The photo
above, from the Chris O'Neill collection (via Geoff Goodall), was taken at Darwin in November
1981 after the Heron had been absorbed into the Northern Airlines fleet. As discussed in other
Connellan Heron narratives, Northern was a short-lived enterprise and the Heron moved on to
Airlines of Tasmania in May of 1983. Unfortunately it was written off in a landing accident at
Launceston, Tasmania only three months later on 4 August 1983. This machine had originally
been delivered to Spain in 1955 as EC-AOC. It was recycled back through the UK in late 1964
(as G-ASVB) before going to Fiji as VQ-FAE. It had been re-registered DQ-FAE by the time
Connellan purchased it in 1976, and immediately upgraded it to Riley Heron standard.