VH-CLX de Havilland (Riley) D.H.114 Heron 2D (c/n 14098)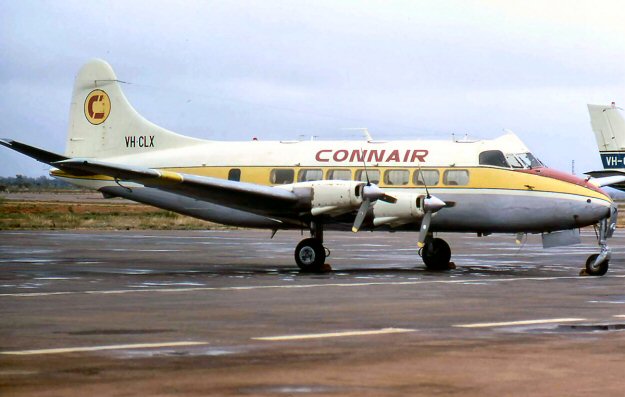 VH-CLX, acquired by Connellan in 1971 (I'll make an exception with this one to my normal
cut-off date of registered on or before 12/31/1970 for inclusion in my aircraft photo selection
in order to round out Connellan's Heron fleet history) was ex G-ANPV. It was built in 1954
and probably had a series of owners before its exportation to Australia. Like the rest of their
Herons, it was converted (by Connellans themselves) to Riley Mk 2D/A1 standard in 1972.
Above is a rare shot from the Roger McDonald collection showing -CLX at Alice Springs in
July 1973 wearing a short-lived experimental color scheme featuring ochre trim representing
the red earth of outback Australia. It was reported that Eddie Connellan liked the ochre
scheme but was persuaded that the yellow and white with green titling was preferable.
Interestingly, Geoff Goodall's shot below, taken at Bathurst Island in the Northern Territory
in January 1979 during a tropical rain storm, makes the yellow coloring appear to be more
ochre! Possibly film and lighting differences account for this anomaly. The final operator of
-CLX was Airlines of Tasmania and it is now part of the Moorabbin Air Museum's collection.