VH-CLW de Havilland (Riley) D.H.114 Heron 2D (c/n 14108)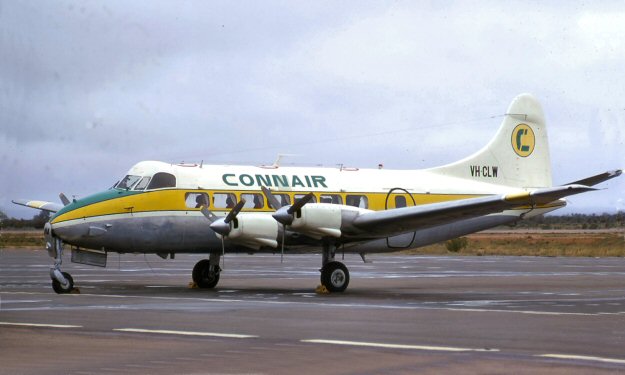 This Heron had 'been around the block' before Connellan Airways acquired it in 1970. It was
originally built for the post-war Luftwaffe as CA+001 (they only had two, I believe), and was
then civlianized in 1963 as G-ASFI. It was then sold to Guinea-Bissau (Portuguese Guinea) as
CR-GAT. Eddie Connellan must have scoured the world for Herons to come up with this one.
Anyway, it was registered to him on 21 July 1970 and converted eighteen months or so afterward
to Riley Heron standard (Lycoming engines), and given the new yellow and green livery as seen
in the shot above by Roger McDonald at Alice Springs in July 1973. Connellan sold -CLW in
1977 to Kendell Airlines who operated it from their Wagga, NSW base to country centres in NSW.
and later on local services in Victoria, Tasmania and South Australia. Photo # 2 (immediately below)
was taken by Mike Madden and shows it in Kendell service at Melbourne's Tullamarine Airport in
June 1980. Earlier that year they had leased it to Executive Air Services of Essendon, and Mike's
# 3 shot shows it at Essendon in April 1980. In May 1981 Kendell leased it again, this time to Air
Tungaru in the Republic of Kiribati (Gilbert and Ellis Islands). By the way, that's pronounced Kiribass.
This, I am told, since that is the local name for 'Gilberts', and that's the way the pronunciation came out.
Ron Cuskelly saw it at Brisbane Airport in that month and provides shot # 4 below. It was eventually
re-registered T3-ATA into the Kiribati register (the island chain must've had all of three aircraft). In
November 1984 c/n 14108 changed owners again, this time to Sunflower Airlines of Fiji. I believe it
may have originally been VQ-FDY for a short while, but was soon re-registered DQ-FDY. The
Heron eventually returned to Australia and was purchased by the Central Australian Aviation Museum
in 2012 from Paul and Christine Ewold. A new hangar will be built where it will be put on public
display. Ian Mcdonell saw it (foot of the page) at Alics Springs in August 2017..