VH-CLL (2) Beech 95-55 Baron (c/n TC-153)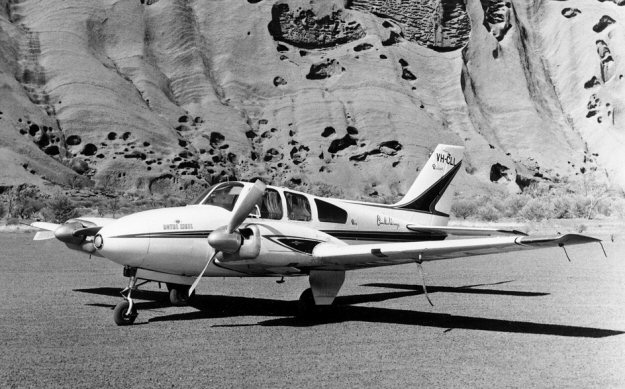 Evocative shot from the CAHS archives (via Phil Vabre) of a Connellan Airways Baron in the lee
of Ayers Rock in the early 1960s. At least, that is what we called this, the world's largest monolith
in those days. Woe betide me nowadays should I refer to it thusly! Anyway, this smartly turned
out machine was first registered new in September 1961. The inscription on the nose says 'Royal
Mail'. When sold off by the airline in July of 1967 it was re-registered into the SA block of regos
as VH-UPJ.
Incidentally, the first iteration of VH-CLL was to have been another Beech Baron, the demonstrator
N433T. Before its Australian registration could be taken up, however, this aircraft tragically crashed
at Longreach, Queensland on 12 May 1961 whilst being shown to Somerset Airways. The Beech
sales and demo pilot, Rear-Admiral E. Dinning (retd), Jack Smith, managing director of Somerset
and three other passengers all lost their lives.