VH-CLG Beech C-18S (c/n 4213)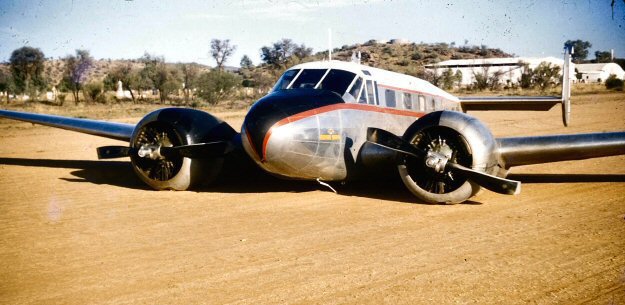 This was formerly Theiss Brothers' VH-BJJ, a common site at Essendoin in the mid 1950s.
It was sold to Connellan Airways in November 1958. A month later (on 21 December
1958) it was involved in a belly-up landing at Alice Springs Town Site Airport when the
undercarriage failed to lock. The above shot was taken by Ian Leslie who was manager
for Connellan at the time. Since the rego cannot be discerned on this photograph, there is
a possibility that it was still carrying VH-BJJ although I suspect that it had, in fact, already
been re-painted. Certainly the livery was different from its days with Theiss Bros.
In August 1965 -CLG crashed at Cresswell Downs Station, NT. Although there were
no injuries to passengers or crew, the Beech was a write-off. The remains were donated
to the Queensland Air Museum at Caloundra where it is on display.