VH-CLB Piper PA-28-180C Cherokee (c/n 28-2549)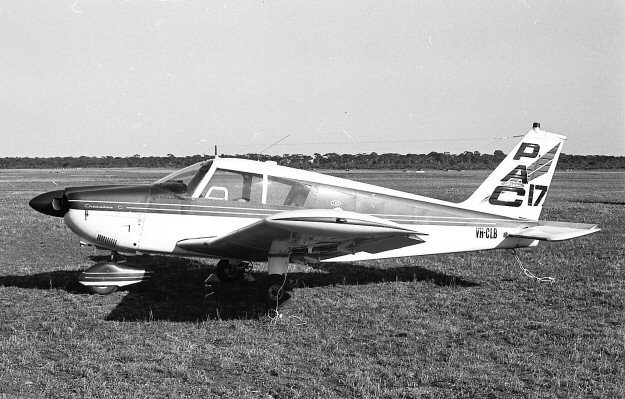 VH-CLB was originally registered in May 1966 as VH-PYT in the new Piper registration blocks
used by the then then Piper agents Ansett General Aviation, Bankstown. It was sold to Connellan
Airways at Alice Springs changing regos to their VH-CL_ block. It was probably Eddie Connellan's
personal aircraft, used by him to commute from Alice Sprigs to his property 'Narwietooma' where
he lived. Connnellan sold it in June 1970 to an outfit in Perth named Group Air Pty Ltd who leased
it to Preston Air Charter of Jandakot and later to other local companies. Geoff Goodall took the
above shot at Kalgoorlie, WA in October 1970 whilst it was operated by Perth aviation "character"
Dudley Preston. PAC actually expended considerably later on, acquiring 6 singles, an Aztec and two
BN-2A Islanders before Dudley sold out and it was renamed Perth Air Charter. By 1972 (immed-
iately below) VH-CLB was operated out of Jandakot with the PAC titling removed. -CLB is still
current and at the foot of the page is a contemporary shot of it taken by Phil Vabre at Wangaratta
in January 2006. Maybe it was in the middle of a paint job?