VH-CKP Cessna 182E Skylane (c/n 54359)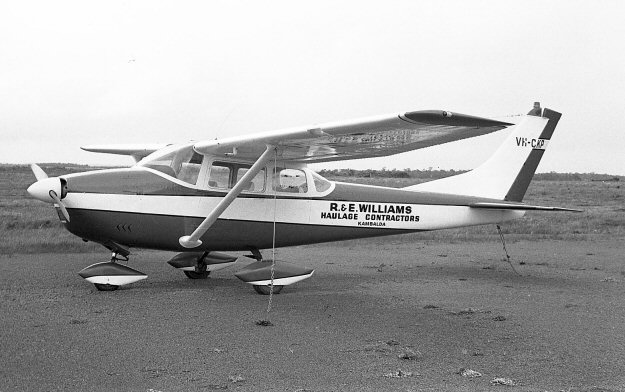 Geoff Goodall took three photos of this Cessna during his sojourn in West Aussie. Above, it was
seen at Albany, WA in September 1970 while owned by a trucking company out of Kambalda WA,
a mining town near Kalgoorlie. Previously VH-RIZ with Rex Aviation in Sydney this Cessna was
sold to Aerial Enterprises at Derby, WA as VH-AEP, then to some WA charter companies before
being re-registered VH-CKP in October 1967. It was owned at one time by Robin Miller, daughter
of Horrie Miller, founder of MacRobertson Miller Aviation who flew -CKP throughout the north west
of WA administering sugar cubes laced with anti-polio vaccine to remote aboriginal settlements, earning
the sobriquet "Sugar Bird Lady". The shot immediately below shows it at Jandakot in April 1973 by
then owned by Trans West Air Charter of Perth. Finally, at the foot of the page it is seen at Jandakot
again, this time in October 1976 when it was covered in advertising slogans for the annual Weekend
News Air Trial. This Skylane was eventually written off when it crashed near Bunbury, WA on 19
June 1981.