VH-CKF de Havilland D.H.82A Tiger Moth (c/n DHA596)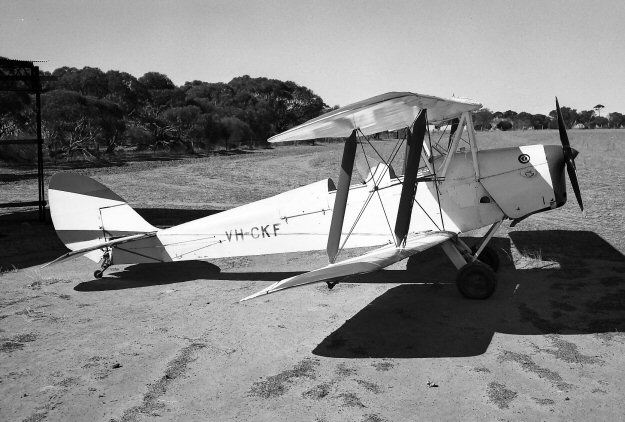 The Geoff Goodall photograph above was taken at the owner's farm at Benjaberring, WA in
December 1969. "Where", you say? Yes, well I had to look it up, too. Turns out the little
farming community is situated some 200 km east of Perth. Doesn't look like the Tiger was
used for topdressing. Perhaps to reconnoiter the station? This aircraft had done service with
the RAAF as A17-421 prior to becoming VH-AZL for the Dept. of Civil Aviation in 1947.
When DCA re-registered their aircraft into the VH-C series it became VH-CAG. In 1960 it
was sold to the Gliding Association of Western Australia as VH-TUG, and then re-registered
VH-CKF when the more prestigious Chipmunk assumed that identity, before going to farmer
Geoff Lawrence in the boondocks. By that time it had shed its canopy. In 1972 when Lawrence's
assets were liquidated for a bankruptcy sale it was bid on, and acquired by, the Narrogin Flying
Club where Geoff Goodall saw it again in 1973, taking the color shot (immediately below) in July
and the B&W image (foot of page) in October. In 1995 VH-CKF was acquired by the Royal
Aero Club of Western Australia for joyride flights, and is still registered to them, although may not
now be airworthy (as of mid 2007).