VH-CKA de Havilland D.H.82A Tiger Moth (c/n 83120)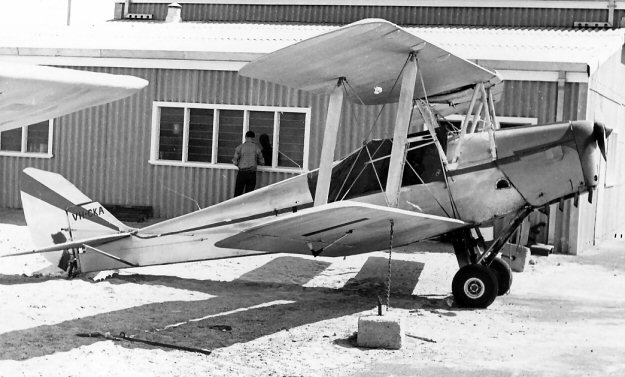 In 1961 DCA Head Office allocated the random registration block VK-CKA-CKZ to WA Region
in Perth. The first use of the block was to Tiger Moth VH-CKA registered on 5 October 1961 to
"No.4 Light Aircraft Purchase Group" at Perth's old Maylands aerodrome. The Group had acquired
the cropduster VH-WFO and requested a new registration for it. It was then converted back to two-
seater configuration. It is seen above at Jandakot in January 1964 in this Merv Prime photo (courtesy
of the Geoff Goodall collection). After 5 years flying it was retired and abandoned and left out in the
weather at Jandakot Airport. It was then moved to a garage in the Perth suburb of Belmont in August
1971, where Geoff himself took the photo below. The rebuild project must have stalled since it never
reappeared on the register. This UK-built Tiger had many prior identities. After serving with the RAAF
under its RAF serial R5261 it was civilianized in 1948 as VH-BDI. It was sold to the Royal Newcastle
Aero Club in June 1956 becoming VH-RNR. It was not with the club long and a couple of years later
it was sold off as VH-WFO to become an agricultural aircraft.