VH-CJS de Havilland D.H.114 Heron 1B (c/n 10903)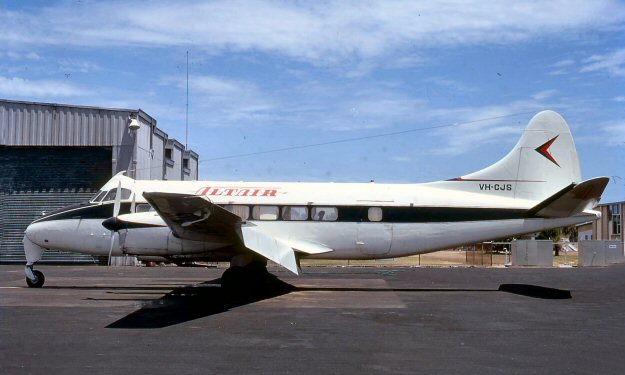 This aircraft was actually the prototype Heron built as G-ALZL in 1950. It is the example I use to
illustrate a BEA machine in my European section (even though BEA never actually operated it). It
was leased to Braathens SAFE in 1954. Returning to the UK it spent time with Jersey Airlines and
several other British owners before being sold in 1966 to Dan-Fly in Denmark becoming OY-DGS.
Cimber Air acquired it in 1968, and Geoplan in 1969. It was then purchased by Altair Pty Ltd in
Australia in July 1973 and registered VH-CJS. All images in this entry are from the camera of
Geoff Goodall, and the first one, above, was taken at Jandakot Airport, Perth, WA in February
1974. Altair had a need for greater capacity to carry oil drilling workers from Perth to Barrow
Island, off the northern WA coast, and purchased the Heron, now upgraded to a model 1B retain-
ing the fixed undercarriage and fitted with 250 hp Gipsy Queen 30 engines. They soon replaced
it with more modern equipment and by January 1975 it was with Coveair who used it on scheduled
passenger services from Adelaide to Kangaroo Island and also to South Australia country towns.
Photo # 2 below was taken at Parafield in October 1975. The Heron was sold again after a short
tenure, to Amalgamated Air of Perth. Geoff's shot # 3 shows it at Adelaide Airport in March
1976 loading freight while on a charter from Perth during an airline strike. When -CJS was retired
in 1976 there were plans to restore it and exhibit it at the Aviation Heritage Museum of Western
Australia, but evidently some legal harangues prevented this from happening. . It had returned to
Perth earlier in 1976 and its last flight was a three engine ferry from Perth Airport to Jandakot on
the night of 21 May 1976, after which it was parked out at Jandakot. It eventually became derelict
during a prolonged legal ownership dispute, in which no side would allow the Heron to be sold to
several aviation museums in Australia (the RAAFA being one of them) or, indeed, to the UK who
were anxious to see the prototype Heron preserved. Geoff's final shot (# 4) shows the poor old
thing at Jandakot in October 1980 retired, with peeling paintwork and bailiff's notices taped to the
cabin door


2

.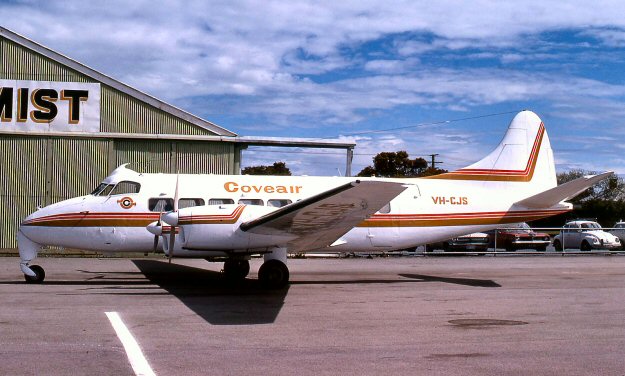 3.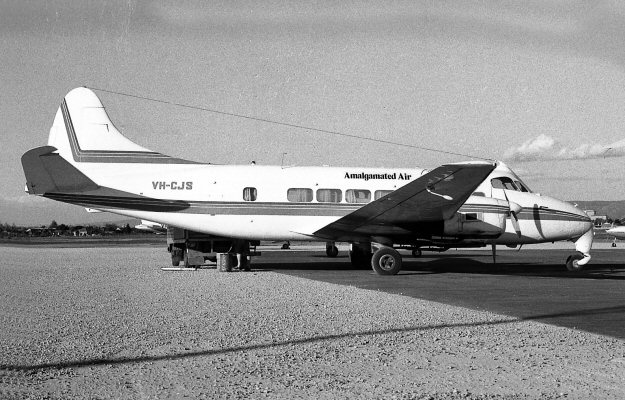 4.