VH-CHS de Havilland D.H.82A Tiger Moth (c/n 260)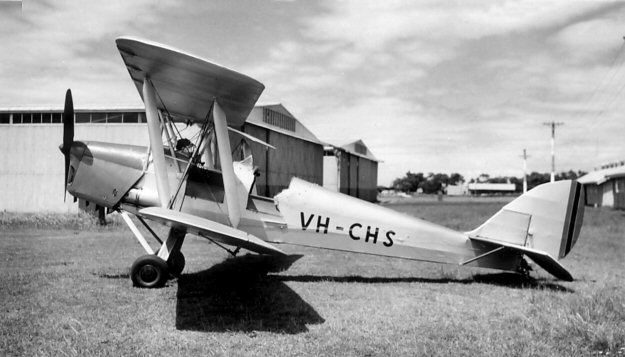 This immaculate Tiger was owned, when this shot was taken at Moorabbin in 1957, by the
McKenzie Flying School This Tiger was registered in December 1947 to Mr. C. H. Sears
of Melbourne (ex A17-241) at a time when DCA were weakening their previous resolve to
adhere strictly to allocating registrations in the VH-A & B blocks The shot below was taken
at Darwin in 1949 and was a copy taken from an old RAAF pilot's photo album by fellow
enthusiast David Vincent (via Geoff Goodall). Site visitor Rick McKean has lately (July
2009) solved the mystery of where this photo came from. Rick states that his father owned
-CHS from 31 May 1948 until he sold it to Gertie McKenzie on 17 August 1953 to become
the nucleus of her flying school. From 23 March 1949 to 13 June 1949 Rick says his dad
and Keith Darling (ex RAAF) flew this Tiger around Australia covering some 9,200 miles.
They were in Darwin from the 2nd to the 7th of March 1949 which is when the lower photo-
graph was taken. Rick's dad can barely be seen standing in the shade of the wing, whilst
Keith Darling is feeding fuel into the upper wing tank through a large two part metal funnel..
A chamois could be fitted between the two sections of the funnel and strain water from the
fuel. The bloke on the bowser was evidently the Shell Aviation representative with whom
McKean had an exclusive contract to supply fuel and oil at some 49 dumps (airfields, cattle
stations, etc.). This Tiger eventually ended up as a duster with Schutt Airfarmers at
Moorabbin in its latter days. It was written off when it crashed at Moyhu, Victoria in 1960.