VH-CGA Tipsy T.66 Nipper II (c/n 35)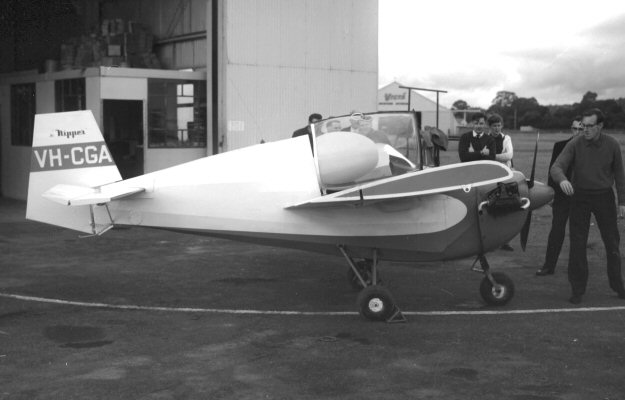 This red and white Tipsy Nipper was imported in 1961. Although built by Avions Fairey at
Gosselies in Belgium, from c/n 22 on they were assigned Danish registrations for flight testing,
this one being OY-AEI. Can a Tipsy expert give me a reason for this? Greg Banfield's
shot (above) was taken at Bankstown on a bleak winter's day in June 1963, whilst below it is
seen somewhat earlier at the same locale in 1961 in this image from The Collection p7119-0005.
In 1961 it was slated to go to New Zealand as ZK-CAP. In the event this visit across the
Tasman was accomplished by sister craft VH-CGB instead.
In the early 1990s it was determined that ultra-light aircraft such as this should be transferred to
the Australian Ultralight Federation register and accordingly, on 4 October 1991, this diminutive
little craft was re-registered 28-0476.