VH-CDJ Cessna 182 (c/n 33117)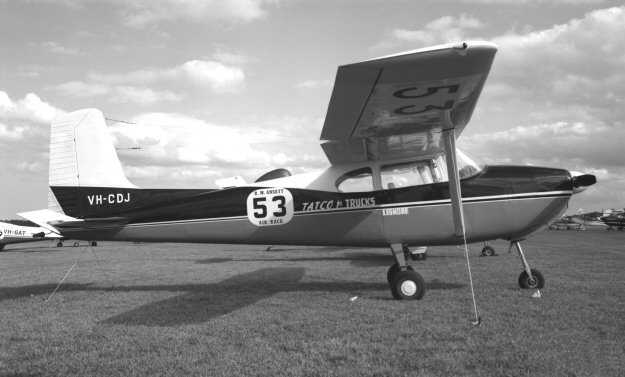 'Tatco for Trucks' with 'Lismore' on the door reads the titling on this 182. The Cessna was owned
at the time by John Robinson and he and Roy Sneesby flew the aircraft in the 1964 Ansett Air Race.
Greg Banfield took the above shot at Bankstown on 29 March 1964. -CDJ was first registered in
Australia (ex N6317A) in September 1960. When Mr. Robinson owned it he was in the truck sales
business and, his son Barry advises, used to sell trucks by flying out west and landing on roads, farms,
anywhere and asking if the farmer wanted a truck. He also delivered Santa to the Bangalow playing
field! Barry provides the shot below of his father refueling -CDJ. In later years the Cessna had a
succession of owners and is still current, being privately owned in Bathurst, NSW. Johgn Wheatley's
shot at the foot of the page was probably taken before the afore-mentioned air race when -CDJ was
new..