VH-BZE Convair 340-51 (c/n 171)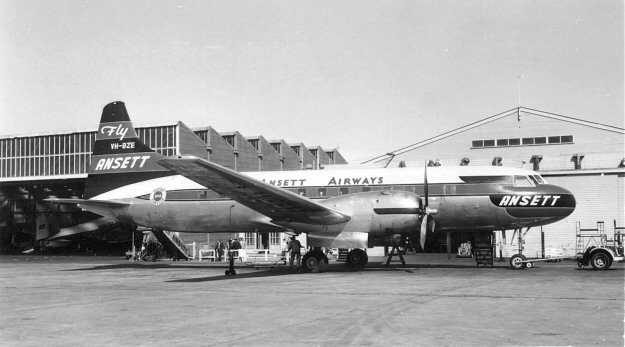 VH-BZE was originally ordered by a Mexican entrepreneur but was never delivered (he died
whilst the aircraft was being made ready). It was to have been XB-TUQ but was stored and
subsequently sold to Ansett early in 1955. After a period under lease to Butler Air Transport
in 1958 (during which it was painted in full Butler livery) it was sold in the US in 1959 becoming
N5511K for Hawaiian Airlines. The lovely color shot below was taken by Barrie Colledge in
1956. Interesting that I did not run into him since we were both there at the same time! Photo
# 3, taken by Ben Dannecker at Sydney in 1959 shows it in Butler titling. The Butler name dis-
appeared the following year as Ansett's Sydney based intra-state services were renamed Airlines
of NSW . In 1972 it was leased to, and later bought by, Zantop Air Transport. It suffered a
landing mishap in January 1975 or 1976 (not sure which) at Hartsfield Airport Atlanta, GA when
the landing gear collapsed upon landing. The shot at the foot of the page, from the Bob Smith
collection, shows it being lifted after that accident. Repaired, it went on to fly until 1995 when
Zantop stored it at Detroit's Willow Run Airport, and finally scrapped it in 1999.