VH-BYX Auster J/5F Aiglet Trainer (c/n 3137)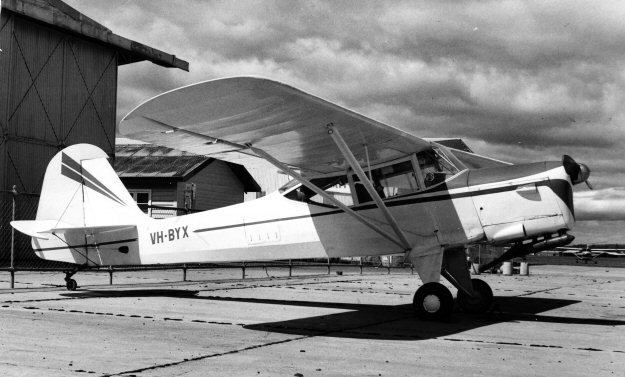 VH-BYX at Bankstown in September 1967 as photographed by Dave Eyre (image courtesy of
the Geoff Goodall collection). First registered in September 1955, this aeroplane was withdrawn
from use in April of 1971. Despite the name 'Aiglet' these aircraft were actually derivations of
the J/5 (not the J/1B) with a widened and strengthened fuselage, permitting it to be fully aerobatic.
Off the register in 1971, this Aiglet was completely rebuilt in 1991 with substantial modifications.
Richard Rudd of Mareeba, Qld. who now owns the machine provides a shot of it below, taken
in 2005. It appeared to be carrying a New Zealand style rego, since I cannot see any evidence
of the "VH-" on the fin or rudder!. Actually Richard got back to me on that and indicated that
was a 'temporary' identification, since, at that time he was hoping to be able put -BYX on the
RAA register. However, it seems that for the past 20 years or so RAA and CASA have been
dickering about the upper weight limit, so as of now it is still on the VH- register!