VH-BYM Auster 5D (c/n 1772)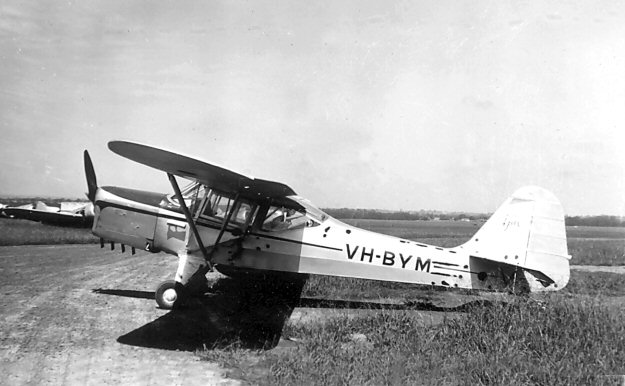 This was the aircraft from which the civilian Autocrat was developed. The Auster 5s were
delivered to the RAF towards the end of WW II (this one was TW433) and converted
postwar to 5D standard by replacing the original flat four Lycoming O-290 engines with
130 hp Gipsy Major 1s. I cannot remember what the red blotches on this aircraft were
when it was sitting adjacent to Kingsford Smith's area at Bankstown in 1955. I can assure
you that this is not a fault in the film! The aircraft really looked that way! Almost like it had
received hail damage, although I don't think that was true. Furthermore, it had been given
the name 'Ajax' by KSAS. By the time Norm Weeding saw it a decade later (below) at
Smithton, Tasmania around 1965 not only had the patches disappeared but so had all
vestiges of color! It was owned then by Smithton Aero Club. This Auster was later given
a complete rebuild during which it reverted to its original configuration with a flat four
Lycoming 0-320 and with the large rear glasshouse area not being renewed. VH-BYM is
still flying today and Phil Vabre's contemporary shot of it at the foot of the page (replete
with Continental engine) was taken at Langwell Station in October 2009.