VH-BYD Auster J/5G Cirrus Autocar (c/n 2955)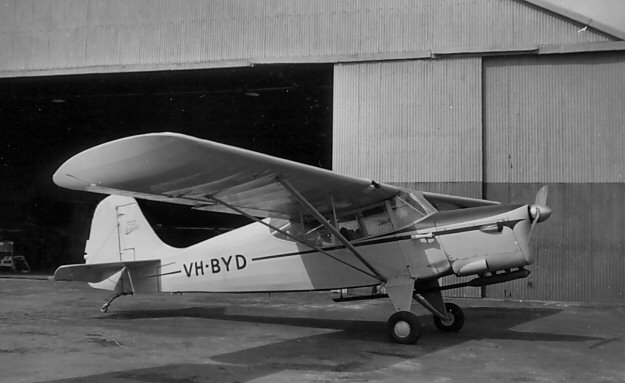 This was the version of the Autocar with the Blackburn Cirrus Major 3 engine. Note rather ugly
exhaust system. -BYD was first registered to KSAS at Bankstown in December 1953, where
my shot was taken when the aircraft was brand new. It was sold the following March to A.M.
and M.G. Cavanagh of Puckawidgee Station, Conargo, NSW (near Deniliquin). After a 26 year
tenure on the farm it was acquired by Joe Drage in 1980 and exhibited in his Airworld Museum
at Wangaratta. When that facility closed the aircraft was sold to Femapine Pty Ltd of nearby
Lavington, Vic. The aircraft is currently owned by L. Brown of Epsom (actually Bendigo) and
is (early 2008) in the process of being rebuilt.