VH-BXQ Percival P.34A Proctor III (c/n H.565)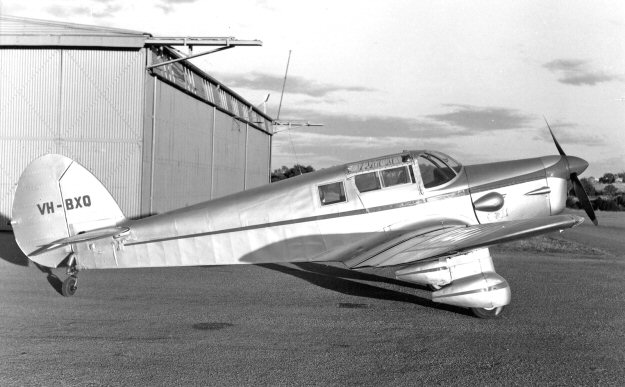 The above photograph was taken at Camden, NSW in May 1962 by Dick Hourigan. Silver overall
with red cheat line (and probably rego). By 1970 it was one of the last Proctors still flying in Aust-
ralia and had by then been repainted in maroon with silver trim. Barrie Colledge's shot immediately
below was at Point Cook in 1971, whilst the Geoff Goodall collection image at the foot of the page
was at a fly-in at Beaufort, Victoria in November 1970. . This Proctor was previously on the UK
register as G-ANGC (ex RAF LZ804), and arrived in Australia in July 1958.. It was written off in a
crash at Lake Connewarre, Victoria, in Oct 1972. In order to be granted a C of A beyond 1962
(the year most Proctors were withdrawn) expensive tests and mods to the glue joints had to be made
to the wood-bonded airframe. As the costs of doing this were uneconomical for many owners, they
were struck off the register one by one . Geoff Goodall advises that VH-BXQ was one of only four
Proctors left by 1969.