VH-BXP Piper PA-25 Pawnee 235 (c/n 25-2638)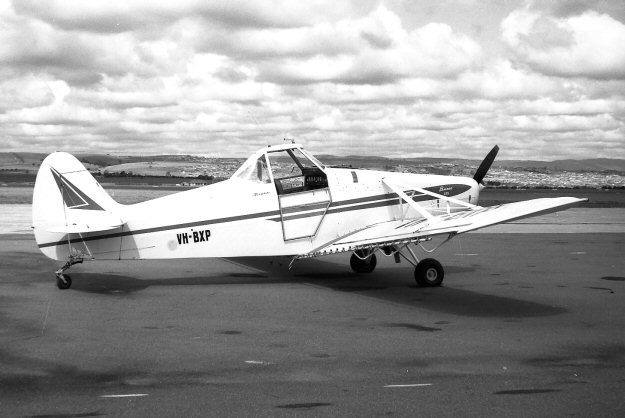 VH-BXP was virtually brand new when Geoff Goodall took the above shot at Parafield in August
1964. The aircraft was owned by Coveair of Kangaroo Island , SA By April of 1967 (below) it
had gained a very smart customized Coveair livery whose logo incorporated a small map of home
base Kangaroo Island. Shortly after the above photo was taken the aircraft hit the ground while
on a spraying run (in June 1967) at Two Wells, SA June 67. John M. Smith recorded it (bottom
of page - photo courtesy of Geoff's collection). It was quickly rebuilt at Parafield using a new star-
board wing painted as VH-FAL ex Field Air, Ballarat. VH-BXP is still current today and flies as
a glider tug for the Gliding Club of Victoria at Benalla. Presumably VH-FAL received another wing
since it, too, is still airworthy as a glider tug.