VH-BXB de Havilland D.H.94 Moth Minor (c/n DHP19)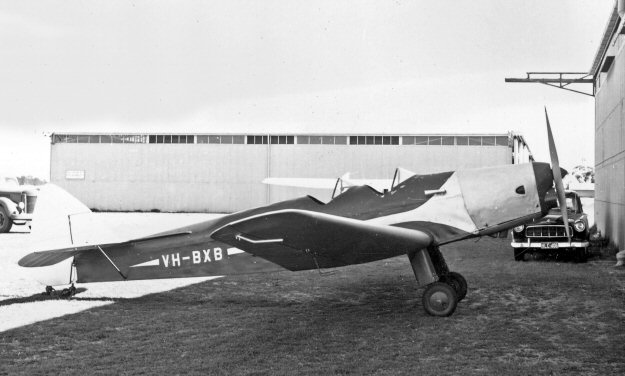 Here's -BXB at Moorabbin on New Years Eve, 1961. It was later to crash on takeoff at
Koyuga, Vic on 15 September 1963. This aircraft had been civilianized from A21-40 in
December 1946 as VH-AXB, becoming -BXB in 1949 when the VH-AX- series became
prohibited registrations. Photo above from the Geoff Goodall collection. Following this take-
off crash it was still largely in one piece and was sold "as is" to Ryan Equipment Co of Shepparton
who reassembled it as a display in front of their machinery yard. Unfortunately it was blown
on its back around 1966 in a wind storm and the wreck was dumped at the back of their yard
Geoffrey Goodall found it on a farm near Shepparton in May 1967 and took the photo below.
In June the following year these mortal remains were further stripped by a party from the
Moorabbin Air Museum who were invited to take any useful parts.