VH-BTN Aero Commander 680FLP Grand Commander (c/n 1695-35)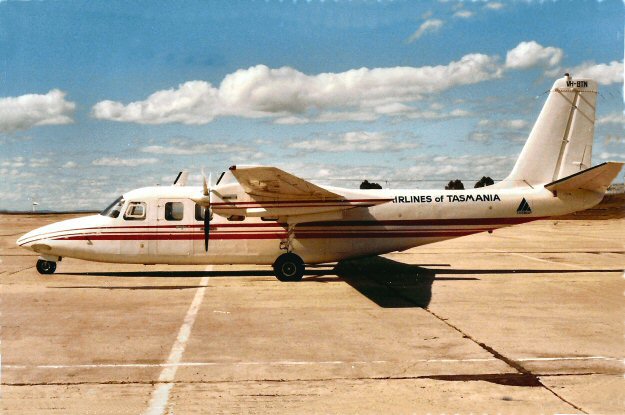 Airlines of Tasmania was founded in the 1970s as a regional airline based in Hobart. It originally
operated mainly wilderness tours and scenic flights although this section of the business was
seconded off to a Division named Par-Avion in 1984 and Airlines of Tasmania itself concentrated
on scheduled services to Launceston, Flinders Island and Essendon. The above shot was taken
at Essendon in October 1983 whilst I was on a trip to Oz when I was residing in Malaysia. This
Grand Commander was one of 37 pressurized versions of the 680 built and is still owned by the air-
line. It came from Europe in July 1970 (ex D-IBME and F-BOJM) and has been maintained over
the years, sometimes acquiring bits and pieces from other Commanders in order to keep it going.
John Wheatley's photo below was taken shortly after it arrived in Australia and whilst it was operated
by Bizjets. Finally, at the foot of the page is a shot by Ian McDonell taken at Mudgee, NSW in June
2009 looking decidely bedraggled.